An introduction to web visitor insight software
This video will show you how heatmaps, scroll maps and click maps can be used together to give you deep insights into your website using free software like Hotjar.
Video Transcript and Screenshots
Hi this is Terry from Kraken Data, what I wanted to do today was to take you through some of the features available within the heat mapping section of Hotjar and show you how they work together. I'll also show you how we use them to identify areas for testing and improving website conversion rates.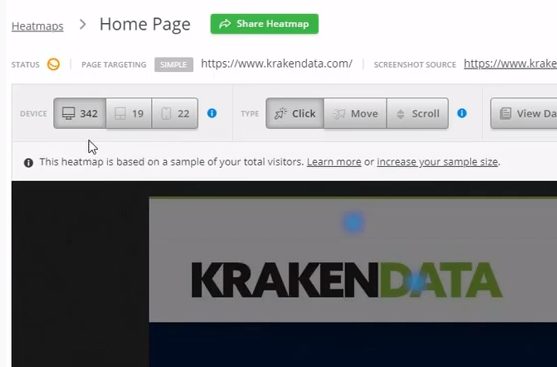 The first thing you notice when you look at the UI is that you're able to view heat maps by three devices, desktop, tablet and mobile and then you can look at three separate heat map types. I'll take you through each of these types and demonstrate how the combination of the three gives a really good insight into visitor behaviours.
Click Heat Maps
I'll start with click heat maps on desktop, this is the one that most people see. Red denoting the most clicked areas moving through to blue for the least. At the top of this web page you can see that CRO is the most clicked item and that's a very good indicator of visitor intent, we would look to test the content to match the expectation. We also might test making that CTA larger or more prominent so visitors can see it as soon as they arrive on the page. What we also notice here is the main CTA receives very little click attention so we would definitely look to test both the CTA and the supporting text to attempt to lift conversions.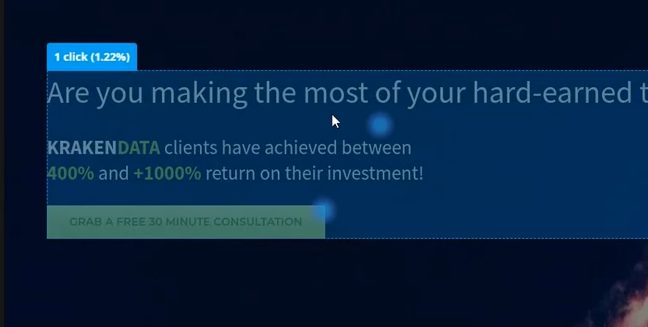 As we start to scroll down we see very little interaction which is to be expected with text only content and as we scroll further down still we see a few clicks on the word "discover". That isn't very important in this case but you sometimes see areas that get a lot of clicks that have no actual call to action or purpose, so something in the design can be making the visitor want to click an element. Here we would test the variation that reduced the likelihood of clicking and also test adding a click event that maybe display more information.
Further down still we see a few clicks in text areas generally indicating that the visitor is reading
the content. We see the form is not getting any clicks and we would definitely look to test the content and CTA here. As we approach the footer there's a lift in clicks as content for other posts is shown. Again we've seen interest in CRO content.
Movement Maps
What I'll do now is switch to movement maps where we'll see a little more detail about how visitors are interacting with the content.
Many visitors use their mouse to help in reading content, a little like using your finger when reading a book. The top navigation here gets low attention and there's a fairly random pattern over the main CTA area, but you can see the button gets a little more attention as visitors read the text.
As we move down we see steady movements but when we reach this particular area their seems to be a particular concentration around number four post. This indicates to me a piece of content the ground user attention and could be indicative of content and should be given greater prominence on the page.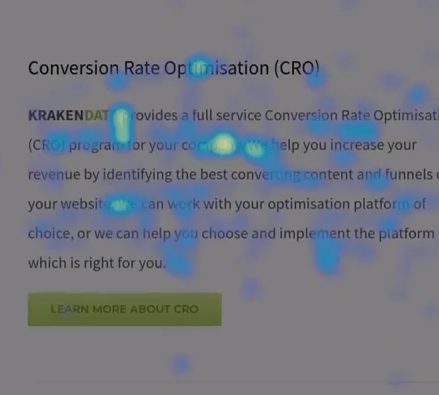 Move further down still you'll see the services area and again conversion optimisation content is the most read. In the form the logos grab attention, I would test the alt text for these images to reinforce a message as the mouse hovers over each logo and that would apply to all images.
The later elements also get good interactivity, even the copyright and social media icons getting attention.
Scroll Heat Map
The final heat map is the scroll heat map which records how many users have scrolled down to each section of the page. Obviously at the top we see a hundred percent of visitors seeing content, but there's a quick drop-off as we move down the page with less than 50 percent of visitors seeing content below
the fold and that's a good indicator of bounce for that page. Also note the screen size is smaller for log visitors with 25 percent of visitors not seeing below the main CTA area.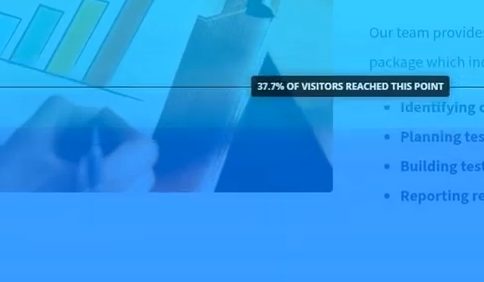 Where this offers the best insights is when we scroll down to the content we saw in the other heat maps that had the most interest. The five-point section is viewed by only 33% visitors, the CRO section by 26
percent and the blog posts only 23 percent. So here we would definitely test the location of these sections.
Does moving these higher on the page lead to more content views and all if teen conversions?
Finally let's look at mobile devices. Very low numbers here but still enough to be able to demonstrate some of the learnings available.
For mobile and tablet there are two types of heat map available. Click is replaced with tap and there's obviously no movement heat map.
The tap shows the largest interactions are with the drop-down menu. There are too few visitors for any other insights. As I move to scroll we see a big shift in behaviour with most mobile visitors happy to scroll much further down than on desktop. Again here we would still look at the content that affects conversion rates, testing location on the page.
Well I hope that gives you some insights into how heat maps can help you better understand your visitors and if you want to increase your website revenue without increasing your marketing spend we have fantastic packaged to help you get on track contact us or call us today for a free chat.